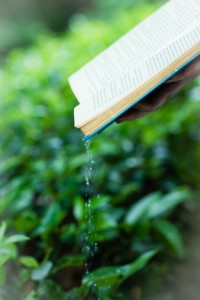 I love the way a piece of writing can bring me closer to Christ, inspire greatness, or even just help me realize that I'm not alone. Life isn't always easy and we aren't promised to always be happy. As 1 Thess 5:16-18 encourages us, we are to: 
"Be joyful always; pray continually; give thanks in all circumstances, for this is God's will for you in Christ Jesus." 
This, my friends, is my ultimate goal in writing. To express my gratitude, to pour out His goodness in my words, keep my own self accountable by what I say, and to live a life that leads others to look towards Christ.
If you are reading this and you have questions about the source of my joy and the marvelous gift of salvation and grace that is for everyone through belief in Christ Jesus, feel free to contact me. I'd love to share more!
"You have made known to me the paths of life; you will fill me with joy in your presence."

Acts 2:28 (NIV)