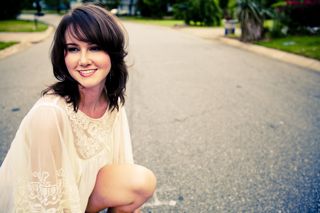 Mandy was born and raised in Atlanta, GA. Her passion is to communicate with others for personal and spiritual growth through her writing. She is also a Speech-Language Pathologist and loves helping others learn how to communicate. Whether it's through an encouraging word to a patient, conversation over coffee with a friend, time with family, or a recent blog post of hers, she thrives off of using her words to support positive change, encourage others, and foster a laugh and a smile from the listener.
Mandy has been journaling for over 13 years and began her blog in 2011. Her work has been featured on ibelieve.com, crosswalk.com, womensministrytools.com, and The Fish. Mandy also has a passion for leadership and speaking. She's led women and teenage small groups, has led worship while playing guitar and singing in adult and children's church environments, and presented at a national convention in regards to her work as a Speech-Language Pathologist. 
Communication in its many forms have been a major part of Mandy's life thus far. Her passion for the Lord and using words to cultivate a change of heart and mind continues to grow. Join Mandy on her journey through this joyous life we are all called to live!