""Teacher, which is the greatest commandment in the Law?" Jesus replied: "'Love the Lord your God with all your heart and with all your soul and with all your mind.'  This is the first and greatest commandment. And the second is like it: 'Love your neighbor as yourself.'" (Matt 22:36-39)
Love is a requirement to living the life of a Christian. Being in love with Jesus is my number one priority. The idea that I could love Him a smidgen of how much He loves me just baffles my mind. What I think is so interesting is that Christ tells us to love others as well, but as ourselves. Are you loving others? Do you remember to love yourself?
Sometimes it's easier to love others more than looking inward. If something is not good enough for us, then it's not good enough for our neighbor. Also, if it's not good enough for our neighbor, it isn't good enough for us either. Often times I treat other people better than I treat myself. 
Loving ourselves can go to two extremes. We can focus on others while depleting our own reservoirs of love or focus on ourselves too much while becoming proud, greedy, and self-centered. A healthy balance of self-love is the key.
Being in the love of Christ motivates me to not only share that love with others but to strive to love myself more. I'd love for you to walk with me as I delve into ways that we can love ourselves better.
1) Nutrition
I started really cracking down on my nutrition the past couple of months. I've always been a lover of vegetables and I've added more and more into my dinners at night. Some of my fav foods recently have included: nuts, eggs, broccoli, avocado, mushrooms, cauliflower, chickpeas, spinach, beans, blueberries, and ginger tea. I still love my sweets but have become more mindful of portion control 🙂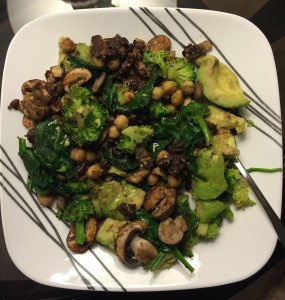 "Do you not know that your bodies are temples of the Holy Spirit, who is in you, whom you have received from God? You are not your own; you were bought at a price. Therefore honor God with your bodies." (1 Corinthians 6:19-20)
It's important to fill our mind and physical bodies with healthy choices. Which also leads me to the next topic…
2) Exercise
The hardest part of working out, for me, is just getting started. I love the physical act of sweating, pushing myself to go more miles, and having my everyday clothes fit better. When I feel good, my confidence sours, and I look my best. I keep track of when I workout on a dry erase board so that, at the end of the month, I have a visual reminder of my hard work!
During the winter, for a month or two when it's dark and cold, I usually put my gym membership on "freeze" and focus on YouTube workouts at home with weights. I loved Fitness Blender videos and yoga especially this year. 
My motivations for going to the gym are simple: 1) I am responsible for my health. I've been given so much and it's up to me to keep what's in my control as healthy as possible. It's not too far away so I have no excuse. 2) I love listening to upbeat music and working out is the perfect time to do that. 3) I enjoy being amongst other people at the gym (ex: men). As a single woman that works with children and has all female co-workers, it's amazing what just being around a little testosterone can do for ya. 😉 p.s.- I've been to the gym 7 times in the past 10 days…ha!
3) Kindness
Kindness has been my "fruit of the spirit" word of the year. A lot can be said for kindness in relationships with people. It's one of the top qualities I look for in a man. Focusing on being kind to others also provoked me to become more kind to myself. Kind with my thoughts, my words, and with my heart.  
4) Friend-cernment
Friendships are one of God's sweetest gifts to us. I love my friends and, as time moves along, I have gotten better at discerning friendships that go the distance. I wrote a little something about this for iBelieve a couple of years ago and it was positively received. I guess more of us feel this way than I thought. Check it our HERE if you'd like.
5) Dreams
I have a lot of dreams. Laughing more, traveling more, writing more, getting better at the mandolin, becoming Celine Dion's backup singer (Ok, that probably won't happen but it's a legit dream) and learning and growing every day in my profession.
Without dreams, it's hard to get going. It's the wind under my sails that keeps me from becoming sedentary.
6) Word
Keeping the Word in my heart and mind does not come easy for me. I have to focus on memorization, do my daily devotional, and keep note cards of scriptures that I can say and pray out loud.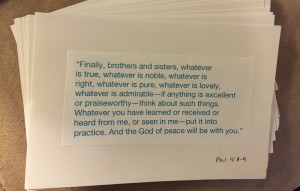 I am a creature of habit. While that is a good thing, my actions can become "auto-pilot" and that is not fruitful for growth, especially when I'm reading the Word. So I have to really fixate my mind on what I'm reading. Sometimes I read aloud and other times I read it over and over again.
I hope this list has given you some motivation to continue loving yourself. It's important to be inside of the love of Christ, wholeheartedly. Being in love with Christ, others, and ourselves seems like a good deal to me. So this Valentine's Day understand that love is more than a box of chocolates or a stuffed animal.
With Christ's lead, I can love others and myself better. And when I walk and talk in love, I'm in Love.