I pushed opened the heavy wooden door and entered into the cool room. Darkness, a harp's lullaby cascading into my ears, and a dimly lit cross in the corner filled the sanctuary that was "The Prayer Room." 
It was a peaceful place to rest in His arms and take in all that was taught after the first day of the conference.
I began walking over to some tables and noticed multiple sheets of paper with different names of God written on them. Attached to the paper were people's names.
A lady, also looking for her name, stepped beside me and whispered, "The woman that set up this prayer room prayed over all 700+ women by name that would be attending the conference this year. Then she taped thin sheets of paper with each of our names written on them on the name of God that she felt Him leading her to."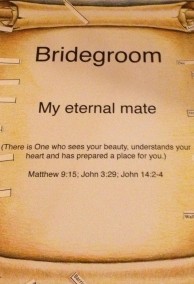 My eyes quickly began scanning over the hundreds of names and stopped as I saw "Mandy…"
The paper said "Bridegroom: My Eternal Mate." If you know what a single woman's mind can do, let me tell you… yes, it went there! Of course God is trying to "tell me" something right?
My eyes began to focus more in the dark. I had to take a second look at my name and smile at God's amazing job. Guess what I noticed the second time around? The last name wasn't mine. It wasn't "Smith" but "Anders." Hmm…
There I was thinking God was giving me a "sign" that while I have a definite Eternal Mate in Him,  I too will have a "Bridegroom: Earthy Mate." By the way, it never said that. I just wanted it to.
It actually meant that He is our Eternal Bridegroom. Will forever be by His side in eternity. And that is AWESOME.
We don't have to take things around in circles to mean something else. If we just take it for what it is, it's what God meant to start with.
I began a hurried search for my name. This time paying extra special attention to my last name, first. After around 3 minutes and a good bit of "Smith" finding, I came over to a new table and saw "Mandy Smith." Ahhh…finally. MY name!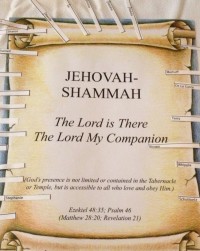 "Jehovah-Shammah: The Lord is There. The Lord My Companion." Tears began to flood, not trickled gracefully, but FLOOD from my eyes. He was There. Beside me. My Companion. My one Constant. Better than any well-meaning, loving husband a woman can have here on earth.
You see, for the month leading up to this conference I had some interesting emotions arising in me. I was feeling more and more "alone." Not lonely, but alone. I was aware of being on the couch at 9:00 pm and not having anyone to talk to. Coming home to a dark apartment day-after-day.
As a single 30 year old, I pride myself on enjoying my time and being at peace with His timing. But for some reason, I was recently becoming more acutely aware of the solitude. I dare say that if you are married and are reading this, you probably experience the feeling of being "alone" too, at times.
So I began talking to Jesus. While reading a book, I would look over and see Him sitting on the couch smiling and watching me. An outsider looking in would have thought I was "koo–koo" but because He was there, I began to talk to Him out loud. I was comforted.
Well, now you can understand why seeing my name on the "Jehovah-Shammah: The Lord is There. The Lord My Companion" sheet was such a "Wow! God!" moment. And I didn't have to rearrange anything in my mind to make it fit into what I wanted it to read.
I took it for face value.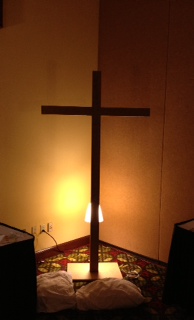 I plopped down from where I was standing which was, by no accident, directly in front of the dimly lit cross. I thanked Him for wanting me and being there.
I knew that people would see my swollen eyes and runny mascara as I went back to my room later on, but I didn't care.
He was there in that moment and He made sure MY first and last name was on that exact sheet. Before a man ever gets a chance to take away my last name and add his, He wanted me to know that my name and identity is precious to Him…just as it is.
He is my Companion and I am His. The Holy Spirit is housed in me. He is and will always be There with me.
He wants my last name, first.
Taking It To Heart:

Have you found yourself talking to Jesus out loud? If so, did it bring you peace?
Do you ever try to twist meaning into something you know God didn't intend?