As a kid I used to have a "packing" game that I would play for fun. I would pretend that I had 5 minutes to grab things I wanted to take on a surprise trip. Where was I going? I have no clue but obviously the packing was the fun part for me. I'm sure it was a hoot to see when my family walked by my door. I would hurriedly sort through books and toys while picking out the top 5 and shoving them into my Minnie Mouse suitcase.
     One Christmas morning, when I was a child, the chimney and wood heater in my house caught on fire. I remember hearing a loud "boom" and smelling smoke. My parents quickly began herding us kids out out of the house as we called 911. Being a young kid on Christmas morning, I decided that I would grab my new Barbie on the way out. Barbie is so important, right? Fortunately, we were blessed that we caught the chimney fire early and our house was fine. This still left an impact on me. I believe it was then that I began to understand just how quickly our possessions can vanish. As I have matured, I have begun contemplating what importance it can take in our lives. My heart and prayers go out to the many people that have been affected by fires, hurricanes, tornados and other tragedies where they have lost not only possessions but also loved ones.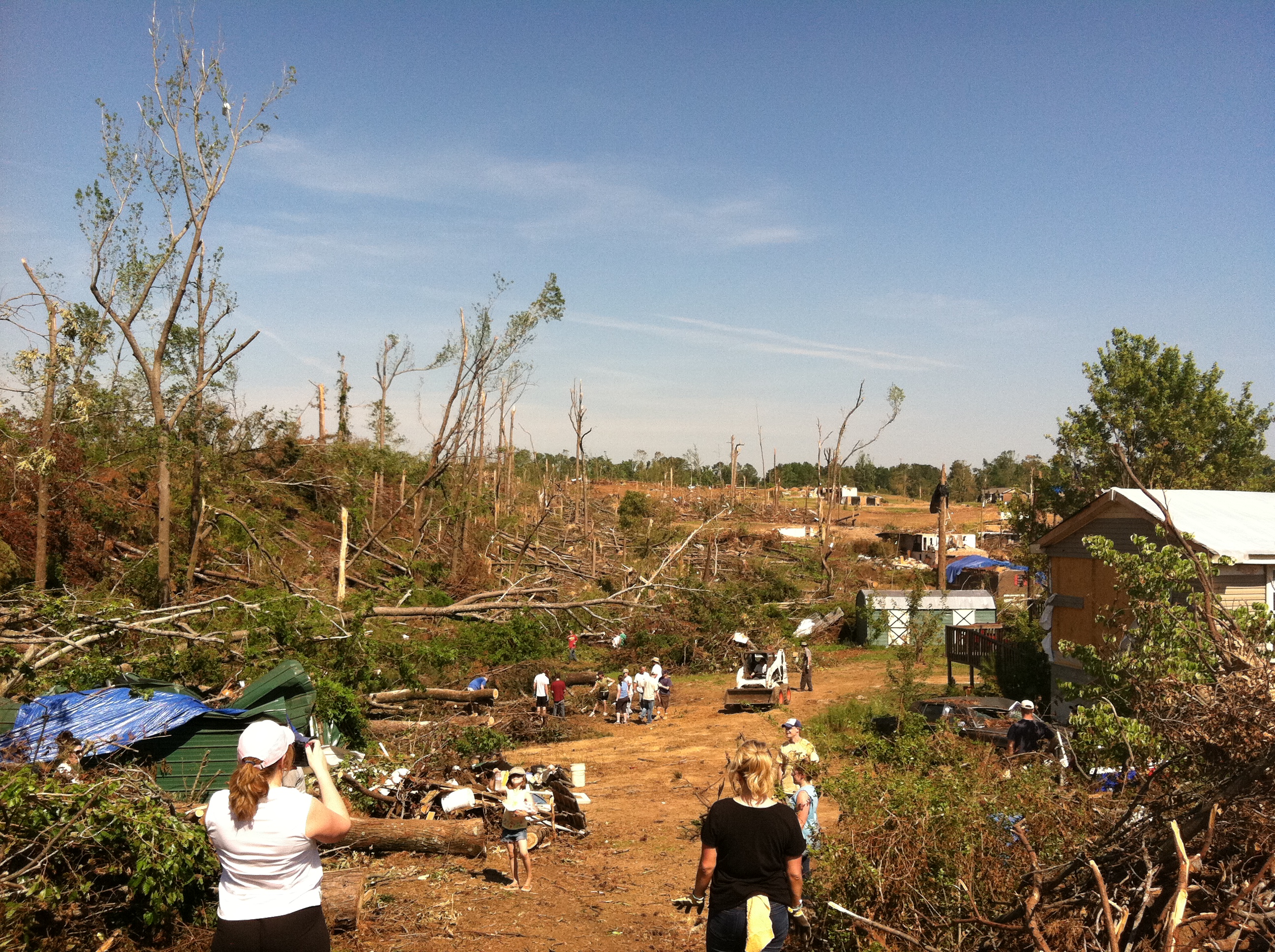 Last year in 2011 I was blessed to be able to help in Tuscaloosa, AL for a couple of Saturdays after the tornado damage. To see such devastation where neighborhoods were wiped away, homes torn apart, and people's lives out in the open for all to see was a very somber and humbling experience. I still remember seeing the house doors with orange spray paint displaying the number of deaths or lives saved, finding pictures of families torn in two, baby blankets smeared with dirt, books and Bibles with pages torn and folded like origami, clothes and personals caked with mud and hanging over tree stumps. One particular man that we helped was such an inspiration to me. To see how his whole life was literally turned upside down was sobering but he had this huge amount of gratefulness for being alive and for us coming to help him clear up his belongings. Needless to say, it was very humbling.
     Disasters can strike at any time while affecting anyone in its path. Being in the midst of the remnants of the tornadoes in AL and seeing the devastation that has recently hit in the Northeast due to Sandy has jolted me back to reality. I was embarrassed while realizing the amount of attention and importance I put on my material possessions. I have to remember that there is a distinction between taking care of what I have been blessed with and idolatry of those same possessions. Matthew 6:19-20 sheds light on this very topic "Do not store up for yourselves treasures on earth, where moth and rust destroy, and where thieves break in and steal. But store up for yourselves treasures in heaven, where neither moth nor rust destroys, and where thieves do not break in or steal…"
     During my mission trip to Bohoc, Haiti this past summer I was reminded just how much the material clutter in my life has built stumbling blocks on the path of deepening my relationship with Christ. We were fortunate to visit a church in the city there called "My Brother's House" and taking the name literally if you saw it in person you would say it was far from our American ideal of a house. It was in the process of construction but that Sunday there were only three concrete walls with sticks holding up cloth pieces for the ceiling. It was hot. But the worship and message, with the use of an interpreter, was some of the most beautiful and honest worship and learning of the Word I have experienced in a long time. There were no material distractions and definitely no need for a cell phone "turn off" reminder.  The entire service lasted for around 3 hours and I was forever changed. The children of Bohoc and the people there lived well under what we would deem as "comfortable" but the depth and richness of the Holy Spirit moving there was bountiful.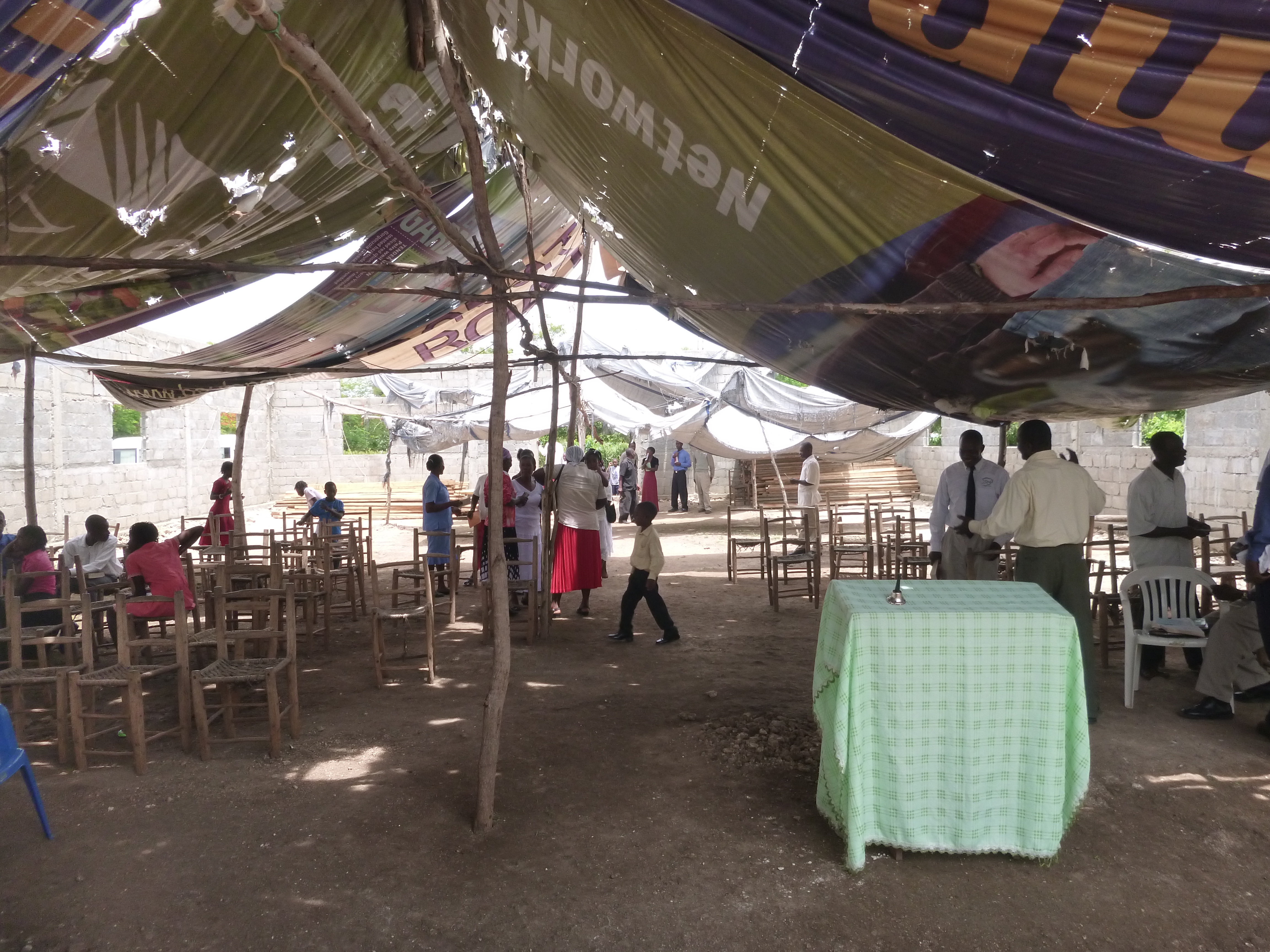 I am sure that if you asked those that lost family and friends from the tornadoes and hurricanes in the US or the earthquakes in Haiti they wouldn't hesitate to give away all they owned or the beautiful land they lived on for more days with the ones they loved and lost. Isn't that what's most important? I am constantly in awe of the Lord's craftsmanship and artistry in our surroundings. He finite attention to detail is amazing! But what really captured my attention in AL and Haiti were the relationships between the people. Husbands, wives, children, grandparents, congregations, teachers, students and new friends. The joy they were having together despite the destruction and minimal material wealth was inspiring. The relationships were being strengthened and  those moments and memories are priceless.
     I have consciously begun to evaluate the emphasis I put on material and tangible possessions. Am I trying to fill the need of immediate gratification with buying something instead of letting patience work itself out? Is there something I buy that I feel will give me acceptance without realizing that I am already accepted by Christ? Am I placing as much or more emphasis on the intricacies of my relationships with people as I do with the contents of my closet? I give these hidden and unhidden desires and idols to the Lord. The last part of the above verses in Matthew 6:19-21 speak volumes "…for where your treasure is, there your heart will be also." Where is my heart? Am I allowing my heart to stir after the Lord and look toward Him? I dare to say that we all need to remember that relationships and people are the most important blessing we possess. Jesus didn't die for our homes, jobs, or hobbies. He died for our salvation so that our hearts can one day be at home with Him. I dare say that keeping our treasure and hearts in Heaven gives us a glimpse of peace and love to share with others from eternity all the way to here on Earth.
     I am determined to become more mindful of my blessings every day. Health, family, friends, joy, laughter, forgiveness, love. Enjoying the people I am blessed to do life with in whatever we do, wherever we are. Making memories and loving on them just as we are called to do. I am not perfect, and it may never be done 100% right, but I can keep trying. We're not promised tomorrow so let the people you love know that you love them! May we not let the storms of life, literally or figuratively, leave us in the remnants of regret tomorrow.
Joyfully yours,
Mandy